The 4th of July is a notable day in American history -- it marks the official birth of our nation, as on that day in 1776, we claimed our freedom. While some Americans celebrated July 4th with barbeques, parties, and fireworks, others felt less inclined to do so; this holiday happens to also allow people to turn a blind eye to the dire situations affecting many Americans. American ideologies and mindsets (such as the American Dream) have empowered a lot of people, but we cannot and should not ever forget about those suffering in America because of America.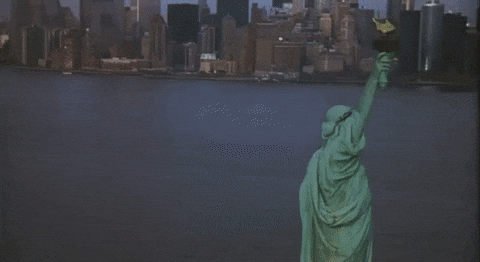 Specifically, this can refer to the Native Americans suffering from mistreatment and neglect, the undocumented immigrants trying to make a living in the country, the children of those immigrants being separated from their families and held in detention centers, and the entire groups of people who are continuously marginalized and discriminated against due to the racism integrated into our society. Many of us have the privilege to forget about these issues as they don't directly affect our lives - it is a privilege most people often indulge in and take advantage of. Most people. 
One woman in particular refused to forget and refused to neglect. Congolese Therese Patricia Okoumou= is described as an "immigrant activist" by the New York Post. On July 3rd, as a member of the protest action group Rise and Resist, the 44-year-old helped unfurl a sign reading "ABOLISH I.C.E" on Liberty Island, near the base of the famous American landmark, the Statue of Liberty. Unbeknownst to her peers, Therese then did exactly as her protest group name calls for; she rose and resisted -- literally. Therese scaled the Statue of Liberty and was able to reach up to the statue's feet.
Despite requests from New York Police Department, Therese stayed headstrong and remained where she was, later stating that this was in direct opposition to President Donald Trump's zero-tolerance immigration policy and the separation of immigrant families in America. She stayed up there, swearing that she would only come down when "all children have been released," for an unbelievable three hours before police brought her down. The police then took her into custody that night. She is currently awaiting trial in a federal detention center in New York City.
This wasn't a random act of opposition - Therese has a history of protesting problematic American policies. In 2017, she was charged with "obstructing governmental administration, unlawful assembly and trespassing" during a protest against the New York Department of Labor, reportedly refusing to obey police demands to leave the building, using tape to cover her mouth.
Most would think the protest group Rise and Resist would take pride in having such a member, but they initially attempted to cut any connections with her after her feat . We should not be ashamed of Theresa.
Whether her form of protest was appropriate or not is debatable, but it isn't the point. In order for us to achieve equality and protection for all in this country, we cannot forget those who are suffering and have yet to see equality. We must continue to protest and fight. Forgetting is a privilege that others do not have. Some wake up and their children are still gone; some wake up and they are still on the streets; some wake up to the continuous harassment from abusive men, police officers, I.C.E officers, and the constant lack of rights. 
We must recognize Therese's act as an outstanding display of true activism, determination, opposition towards the institutions that wrongly control people's lives -- and of course, of love. She demonstrated an array of characteristics that show how she is a real-life Lady Liberty. Thank you, Therese Patricia Okoumou, for not forgetting. We should all try to follow in her footsteps and recognize times in which we turn a cheek to the injustices other people face for the sake of a celebration.
 
Abeeda Hussain - Kasim is a sixteen-year-old aspiring journalist who can often be found writing, reading, and shopping online for clothes under the false pretense that she'll buy anything. One of her primary goals to give back to her community is to empower female Muslims all around the world.
Please reload