Back in February, Hulu announced that their award winning show, The Handmaid's Tale, will be returning for its third season on June 5th, 2019. If you don't already watch the show, now is a great time to get started so you can be ready for the new season!
The Handmaid's Tale is based off the novel by Margaret Atwood and was originally published in 1985. The show mainly follows the journey of June Osborne, aka Offred, as she deals with being a Handmaid after the Sons of Jacob bomb the White House, seize control of the government, and slowly turn the US into the "utopia" of Gilead. As a Handmaiden, Offred is forced to bare children because she is one of the rare women who are fertile in times of a declining birth rate.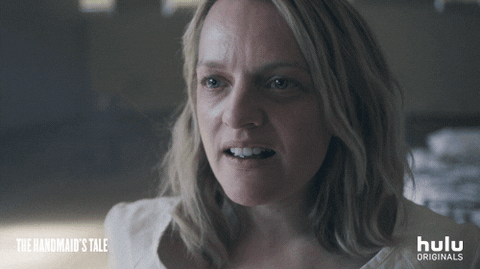 For those who already watch the show but need a quick reminder of what happened in seasons 2 finale, here are some highlights: (warning-spoilers ahead)
Offred and Rita collected the relics of Eden after her cruel death the previous episode. As they fold away all of her things, the two of them reminisce and talk of how they should have treated Eden better.

Offred finds the Bible that Eden had written in, and shows it to Serena who simply doesn't care. Outraged, Offred confronts her, asking how she can keep Nicole safe in Gilead if a devout woman can't even survive. Serena is cold and uncaring, saying she will raise her daughter to read the word of God. Offred reminds her that Nicole will never be able to learn how to read.

Offred finds out that Eden's father turned in his own daughter to the Eyes. Offred confronts the Commander about how he will protect his daughter and he slaps her, telling her to mind her own business. In response, Offred slaps him back (heck yeah!) and he grabs her and spits Bible verses in her face.

Nick and Offred hold their baby, laughing with joy and cuddling her. Offred tells NIck she loves him and for a moment, they finally seem like a family.

Ofjoseph, aka Emily, admits she has her first ceremony to Offred and Janine, who poke fun at how awkward it is. Before the ceremony, Ofjoseph sneaks a knife from kitchen. Turns out she doesn't have to go through the ceremony because Commander Lawrence doesn't want to.

Serena and dozens of wives go to the Commander's cabin to request that their daughters be able to read the Bible, which doesn't go over very well.

Aunt Lydia pays a visit to an untalkative Ofjoseph. She seems to reach her last straw and attacks Aunt Lydia, stabbing her with her previously stolen knife multiple times. She also kicks her down the stairs to make a final statement. Ofjoseph is locked in a room and her euphoria is temporary because she realizes she won't get to see her son again.

Serena shows Offred that her pinky was cut off, and Offred gives Commander Waterford a piece of her mind. When he suggests that the two of them try for a son, Offred replies, "Go f**k yourself, Fred."

A fire starts across the road, and Rita rushes to tell Offred that her and Nicole can escape right now if they hurry. Commander Waterford senses something is wrong and goes upstairs to find the two gone, and "Nolite te bastardes carborundorum" (translates to: don't let the b*stards get you down) written on the wall. Nick stops Waterford from leaving, flashing his gun and saying it's unsafe to go out.

Offred is almost out the compound with Nicole when she sees Serena. Offred convinces her that she know Nicole cannot be raised here, and lets Serena hold her one last time. Offred and Nicole are led to an open field when a car holding Commander Lawrence and Emily arrives. He lets Emily go and her and Offred are rushed to a Guardians car.

Instead of getting in the car, Offred hands Emily her baby and says, "Call her Nicole. Tell her I love her." before closing the door and slaps the car twice to let the driver know it's okay to leave.
The episode ends with Offred pulling up her hood with a look that says she's out for blood. It also ends with us wondering why in the world she decided to stay in Gilead. It's a good thing they gave us enough time to think about the plot twists in the final episode, but we're more than ready for the shows third season to begin! Will you be watching?
Katelyn Dickens is a 20 year old student at Lake Michigan College, majoring in English Writing with the hopes of publishing her own poetry book one day. She loves to watch Doctor Who and can't start her day without a hot cup of coffee and snuggles from her two pets, Vincent and Maverick. Katelyn is a huge advocate for marine conservation and is an Ambassador for SandCloud who donate a portion of their profits to help their mission of saving marine life.
Please reload