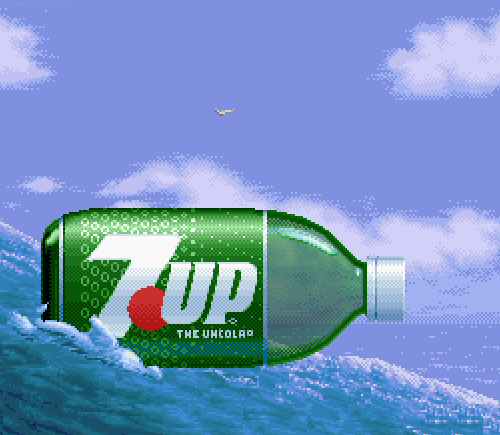 Similar products that are popular invite themselves to be subject to constant comparison and sodas are a popular topic of these debates. Pepsi, Coca-Cola, and Dr. Pepper each have their own versions of different soda flavors and lemon-lime is essential. All of this obviously precludes the debate of Sprite vs Sierra Mist vs 7Up.
A go-to choice is Sprite. It is not only the most sought-out of the three but one of the most
popular sodas in existence. It was released originally in 1961 and is owned by Coca Cola. Sprite has even become more than just a soda; it is a cultural statement. It has embodied the 90's and 2000's to date as Coca Cola did decades before. Sprite backed the appropriate train by putting on rap concerts in the '90s as the genre was quickly gaining popularity. They then partnered with the NBA, sponsoring athletes, games, and parts of the league itself. They made Sprite cool and made it as refreshing as it tastes. The product is delicious. It's a bubbly refreshing soda that doesn't taste overly sugary as others do. Sprite has come out with a few alternates over the years, but for the most part, it has stayed backing the original. The current flavors are Sprite, Sprite Zero, Sprite Tropic, Sprite Cranberry, and McDonald's Sprite Tropic Berry Mix. Recently they have also launched a Sprite Lymonade along with the heavy advertisement. Sprite has also always been a killer in the commercial game. They had the LeBron James, 'Wanna Sprite?' Campaign. They had the rap lyrics series, that featured lines on every can and had commercials with Vince Staples. Also the commercial, "Cold Like a Sprite Soda" with Lil Yachty.
Sierra Mist is an interesting one to talk about since it seems to have constant turmoil that
follows it. It is owned by PepsiCo and was originally released in 1999 as Sierra Mist. They have more recently been called Sierra Mist Naturals, a healthy look rebranded which removed high fructose corn syrup. It has since become Mist Twist, in another attempt at a hip rebrand this time they took after Sprite to try and create a cooler soda that better appeals to the public.
 
They went in on similar advertising concepts and redesigned the bottle and logo. They even went and got the NBA sponsorship Sprite had before them. The formula was reverted closer to the original. About a year ago, the company changed its name back to the classic Sierra Mist and advertises the use of real sugar.

7Up is definitely the afterthought in this argument. It doesn't really offer many alternatives to the other lemon-lime sodas. It doesn't have any key distinguishing characteristics and it almost removes itself from the race to simply serve as a backup. The drink is owned by Dr. Pepper in the USA but PepsiCo everywhere else. One claim 7Up has is being the original lemon-lime soda that everyone wanted a taste of. 7Up was released in 1929 and contained lithium citrate, which served as a mood stabilizer.

Obviously, whichever drink you choose is up to personal preference, but if I had to make a decision on which soda takes the lemon-lime crown, it would be Sprite.
Tripper is a Journalism major at Emerson College where he works on student publications and plays on the baseball team. He is from Connecticut and before going to Emerson was an Engineering student in Pittsburgh.
Please reload